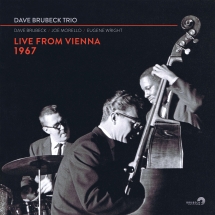 Rare recording of Dave Brubeck, Eugene Wright and Joe Morello when Paul Desmond missed his flight to Vienna
The Dave Brubeck Quartet suddenly became a Trio for this Vienna concert when, after the previous evening's concert in Hamburg, Paul Desmond went out and never made his plane to Austria. While Paul's lyricism was missed, Dave, Gene, and Joe's playing was incredibly strong, high energy & swinging. To the Brubeck family's knowledge, this is the only recording of Dave, Gene & Joe as a Trio.

CD
SKU: BECD20220415
UPC: 700261489872
SRP: 15.99
Street Date: 04/15/22
PreBook Date: 03/11/22
Label: Brubeck Editions
Genre: Jazz
Language: English
Run Time: 42:35 mins

High-res Cover Art (JPG)

Sales Sheet (PDF)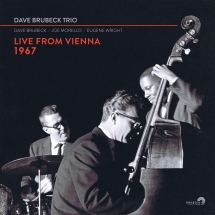 Rare recording of the Dave Brubeck Trio, featuring Joe Morello and Eugene Wright, without Paul Desmond!
180 GRAM VINYL. This may be the only recording of the Dave Brubeck Trio with Dave, Joe Morello and Eugene Wright without Paul Desmond. Paul Desmond missed his flights to Vienna and so Dave, Joe and Gene went on as a trio and their playing was stellar - incredibly strong and swinging this night. A must for every Brubeck fan's collection.

RSD Vinyl
SKU: BELP20220301
UPC: 606822041216
SRP: 32.99
Street Date: 04/23/22
PreBook Date: 03/19/22
Label: Brubeck Editions
Genre: Jazz
Language: English
Run Time: 42:41 mins

High-res Cover Art (JPG)

Sales Sheet (PDF)